GRL-Deckblatt mit leuchtenden Nachtwolken
Kühlungsborn, 31.12.2013
Als Aufmacher eines Artikels aus dem IAP haben die Herausgeber der Geophysical Research Letters eine Fotografie leuchtender Nachtwolken gewählt. Diese Wolken (English Noctilucent Clouds – NLC) sind polare mesosphärische Eiskristalle, die in den Sommermonaten zu beobachten sind, und die am IAP einen traditionellen Forschungsgegenstand darstellen. In dem Artikel von Michael Gerding und anderen geht es um die erstmalige Anwendung eines tageslichtfähigen LIDARs zur Untersuchung des Tagesgangs von NLCs.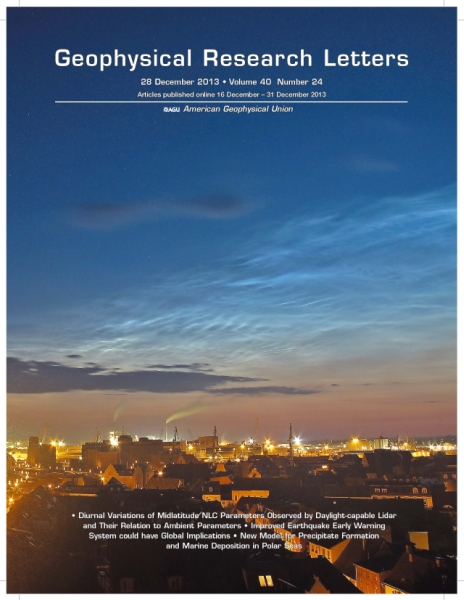 Eine Aufnahme mit der NLC-Kamera des IAP auf dem Deckblatt des Geophysical Research Letter (Jahrgang 2013, Band 40, Ausgabe 24) < http://onlinelibrary.wiley.com/journal/10.1002/%28ISSN%291944-8007/homepage/cover_gallery_2013.htm >
Literatur: M. Gerding, M. Kopp, P. Hoffmann, J. Höffner und F.-J. Lübken, 2013: Diurnal variation of midlatitude NLC parameters observed by daylight-capable lidar and their relation to ambient parameters, Geophys. Res. Lett., 40, 6390-6394, doi:10.1002/2013GL057955, 2013.
Kontakt: Direktor Prof. Franz-Josef Lübken luebken@
iap-kborn.de