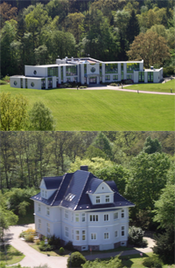 The IAP is located a few kilometers south-east of the small town Kühlungsborn, a sea resort located at the Baltic sea approximately 24 km west of the harbor town Rostock. The geographical coordinates of the IAP are 54°07`N,11°46`E (see Contact for more details). The IAP operates three buildings:
a main building with offices, labs and workshops,
an extension building (opening autumn 2014) hosting offices for the administration and a lecture room and the library,
the newly refurbished villa with the computing center and guest apartments.
IAP owns two guest apartments downtown Kühlungsborn for visiting scientists and as temporary accommodation for new employees. (Information Kühlungsborn)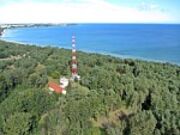 IAP also operates a site located on the island Rügen close to the small village Juliusruh (54°38`N, 13°24`E). At this site there is a building for accommodation and for laboratories, different radars, an ionosonde, and various small geophysical instruments. A detailed description of this site can be found under department Radar soundings and sounding rockets.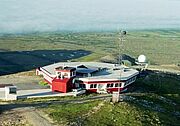 The IAP is intensively involved in the operation of the geophysical observatory ALOMAR, which is located at the edge of the Arctic (69°17`N,16°01`E). ALOMAR is located very close to the Andøya Space Center, a launch site for soundings rockets. This close proximity allows to perform simultaneous and co-located measurements by ground-based and rocket-borne techniques. The instrumentation of ALOMAR is provided by several international institutions with IAP being intensively involved in some of the most important instruments. This allows the scientists at IAP to study the upper atmosphere at Arctic latitudes with modern experimental techniques. More information about ALOMAR and the Andøya Space Center can be found under www.andoyaspace.no.
All addresses are found here.